07.12.2013 03:06:00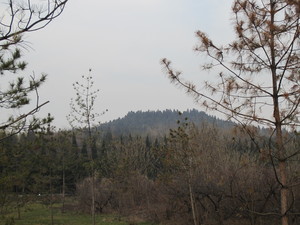 The great pyramid of China (I admin it doesn't look that spectacular and pyramid-like)
After another train ride, I arrived at Xi'an. This was releaving for me, because as I already wrote, I originally wanted to go directly from Urumqi to Xi'an, which wasn't possible. I finally passed that part now. The longer journey gave me the experience of now knowing various transport modes and train classes common in China.
Between Dunhuang and Lanzhou, I took what is called the "hard seat" class for a 14 hour ride (not overnight). I can
quote Wikivoyage
on that:
"Traveling in a seat (hard or soft-class) means you will share the car space with lots of locals. You will most likely encounter smokers, loud noise, and constant activity in the aisle while you try to sleep.
Do not
travel hard class if you are uncomfortable with these settings."
While I certainly was an interesting experience, it is not exactly one I'd like to repeat. It was challenging and I was quite happy when I finally arrived.
With my arrival in Xi'an, finally I noticed that I approach the warmer zones of China. While not really "summer-warm", I apprechiated not having to wear winter clothes all the time. Appart from that, Xi'an was quite different from the other cities I've visited before. It is in many small ways much more like a western city (and, to be not mistaken, in many ways this is a good thing - better hygiene, less dangerous traffic, no smoking in non-smoking zones). And regarding my last blog post, yes, coffee is usually available, although often expensive.
Xi'an is also home of one of Chinas most popular tourist attractions, the so-called terracotta warriors and - not that well known - the Chinese pyramids. I didn't know that there are pyramids in China, so found that worth seeing. Unlike pyramids in other places of the world, the chinese pyramids are not buildings, they are artificial hills. The biggest one, near the terracotta warriors, is the mausoleum of Chinas first emperor Qin Shi Huang.
My initial plan was to visit the pyramid and then decide if I still had time and motivation to see the terracotta warriors. I took the bus to the terracotta warriors and walked the roughly two kilometers to the pyramid. Turned out my planning was not really how one was supposed to do things. Going to the pyramid is only possible with an entrance ticket for the terracotta warrior museum - and you cannot buy it at the entrance of the pyramid area. There's a free shuttle service which I then took to get the ticket and drive back.
The pyramid doesn't look that spectacular and there's hardly a spot where you can actually see it's a pyramid. It once was much bigger, but during the centuries, the earth got compressed and it became smaller. I walked around a lot, the area around is a nice park.
As it is common amongst tourist destinations probably everywhere in the world, there is a huge amount of people who want to sell you things - from terracotta warrior replica in all sizes (including ones in original size and made mostly out of the same materials than the original ones) to the various tour guides. I refused all these offers and preferred to find my own way. One more thing notable: This isn't mainly a tourist spot for foreign tourist. The vast majority were domestic tourists.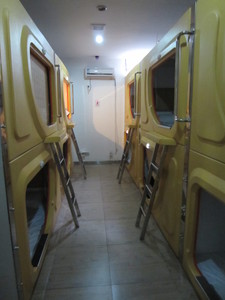 Capsule Hotel in Xi'an
As for accomodation, I stayed in the so-called "capsule hostel" in Xi'an. I
read about these capsule hotels before
(they're especially common in Japan), so I was curious. It is kind of a compromise between a dorm bed and a real hotel room. You get a small private capsule made out of plastic that contains your bed. They even have a television in every capsule (I fail to understand why no matter where in the world you are, a television in every hotel room seems to be standard). It was quite okay, although I would have one suggestion for an improvement: There capsule can not be locked, so you have to put your valuable private stuff into a separate locker every time you leave.
While writing this, I'm in the highspeed train from Xi'an to Guangzhou (taking only 8 hours). I've been to Guangzhou before, and I'm not going there not mainly because I want to see something there. I have a double-entry 2 x 30 days visa and from Guangzhou, I intend to make a quick hop to Hong Kong. Although part of China, in visa issues Hong Kong is like going to another country. So by going to Hong Kong, I have another 30 days to spend in China. Arriving in Guangzhou, I can also finally leave any traces of the northern hemisphere winter behind myself. It has comfortable temperatures all year round.